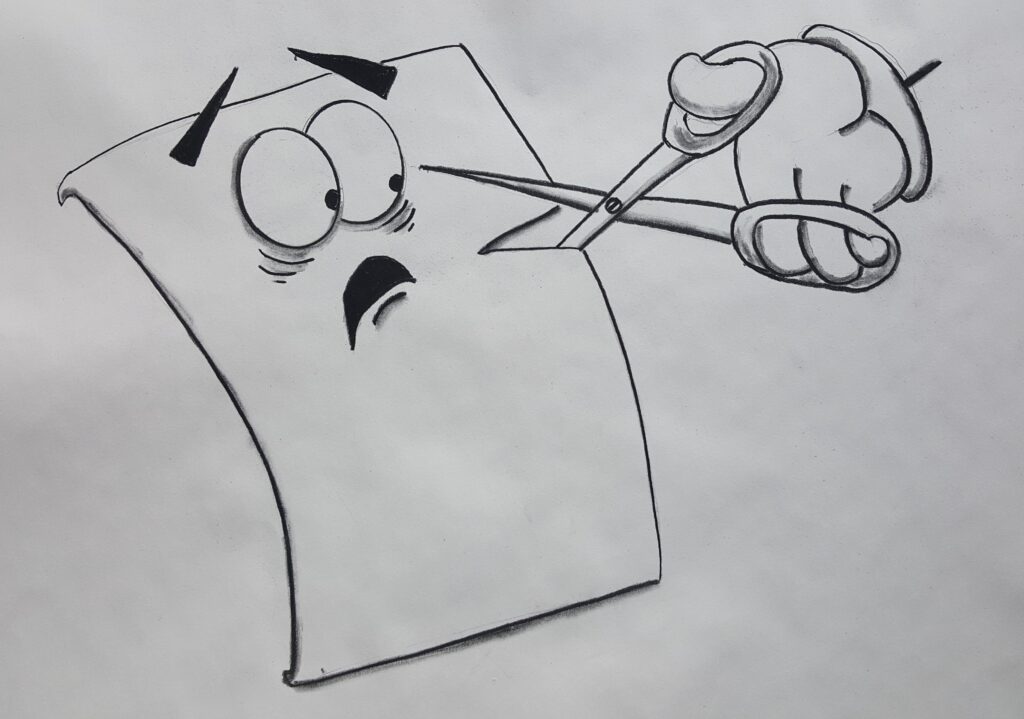 As I begin to write today, here are the hurtful messages that pervade our culture. Dismiss. Cancel. Eliminate. Ban. Reject. Disown. Dissociate. Dehumanize. Go away. Disconnect. Delete. Unfriend. Leave. Block. Ignore. Intolerant. Kicked out. Fired. Prohibited. Keep out. Silence treatment. You cease to exist. At their core is a divisive message severing people and groups from one another.
If you don't recognize how Satan lies, deceives, manipulates, divides, destroys, and kills, you will eventually believe that people around you are the enemy, that you are the enemy, or that God is the enemy. If you've cut yourself off from your support system, Satan will have a hay-day with you. Left to yourself, you self-destruct. Satan's goal is to take you out using whatever tactics that work to turn you against God, against people, and against yourself.
I hate cut-offs. I hate all of the ways that we dismiss and isolate ourselves from one another. I hate it when verbally, nonverbally, behaviorally, or relationally we say, "I don't need you in my life" or "I'm better off without you." We say it when we get mad, when we get our feelings hurt, when we're anxious, insecure, control-seeking, or because we are so different from one another. Jesus asked a deep and compelling question. How can you say that you love Me if you hate your brother? You can't. The more we distance ourselves, the sicker we become.
If you slow down and reflect with me today, who are the people who have done cut-offs with you?
Since we know how hurtful it has been to experience being cut-off from people and groups, why do you think our reflex is to do the same thing? Who are the people that you cut off whenever they think, say, believe, or do what you don't like? If you can't find any, just think about who you avoid talking to or spending time with.
Unfortunately, each one of us has been on the giving and receiving end of these messages: "My life is better without you." "I can't be around you and be healthy." "You're not good for me." If you spend too much time around crazy-toxic dysfunction, you will become ill. Setting and enforcing healthy boundaries is all about saying "no" to what's bad and saying "yes" to what's good. It doesn't feel good when you have to leave hurtful relationships, churches, or workplaces to pursue healing and health.
As we journey deeper and discover the function of cut-offs, we must take an honest look at ourselves in the light of God's love and grace. When I can't turn off my anxious brain that robs me of my joy, I am the one who is robbing myself of the peace that Jesus daily offers me. When I can't sleep because I'm working through what I've been through, I haven't surrendered something to God. When I won't talk to people whom I say that I love, then the love of Christ may be in me, but it hasn't won me. When the voices in my head are attacking me and are keeping me on guard and at war and when I begin to shut myself off, then I can't receive from those whom I've cut off. When I talk all of the time and when I refuse to listen and value what others are thinking, feeling, and experiencing, then I care only about myself and cut you off. When I listen all of the time to people who like to talk too much and when I negotiate away my voice, then I cut off my voice. When I emotionally shut down and disconnect from you, then I care more about self-protection than feeling and being vulnerable and connecting with you. When I fill my life with tasks and when I'm too busy to slow down and spend quality time with you, then my task is more important and I cut you off. When I fill my day helping people but don't have time for my family, then I don't love my family as Jesus wants me to. If I'm consumed by my passions and if they eat up all of my extra time, then my passions are running my life. If I replay the tapes of my past, I cut off the present that I could receive now from God and from the people around me.
If we recognize that all cut-offs are attempts to control, protect, feel safe, and feel comfortable, then we must expand our comfort zones or we'll just continue to be more cut off from God, others, and ourselves. Since we are designed by God to love, to connect, and to live together in community, we must work on our core and our reflexes. We must confront our problem of distancing. If our reflex is to handle it and do it on our own, the people around us will feel devalued and unneeded and will let us handle everything on our own. Go ahead…knock yourself out!
Asking for help or developing the helpers around us requires making more time, being vulnerable, and refusing to live independently—the American way. Making disciples like Jesus did requires countercultural lifestyle decisions where we move closer together and depend more on one another. Living like Jesus forces us to slow down and recognize one another. The people around you are attention-starved. They're longing to feel needed and valued. They're searching for a place to belong and to be loved for who they are. If you identify yourself as a Christ-follower but don't have time for people, there's an immediate disconnect. If you don't have time for hurting and struggling people, then they won't feel or want your Jesus. Love makes time. Make time. Work less. Make less. Accomplish more. Make mature disciples of your people-group—just like Jesus did. They can only learn what you're modeling for them each day.