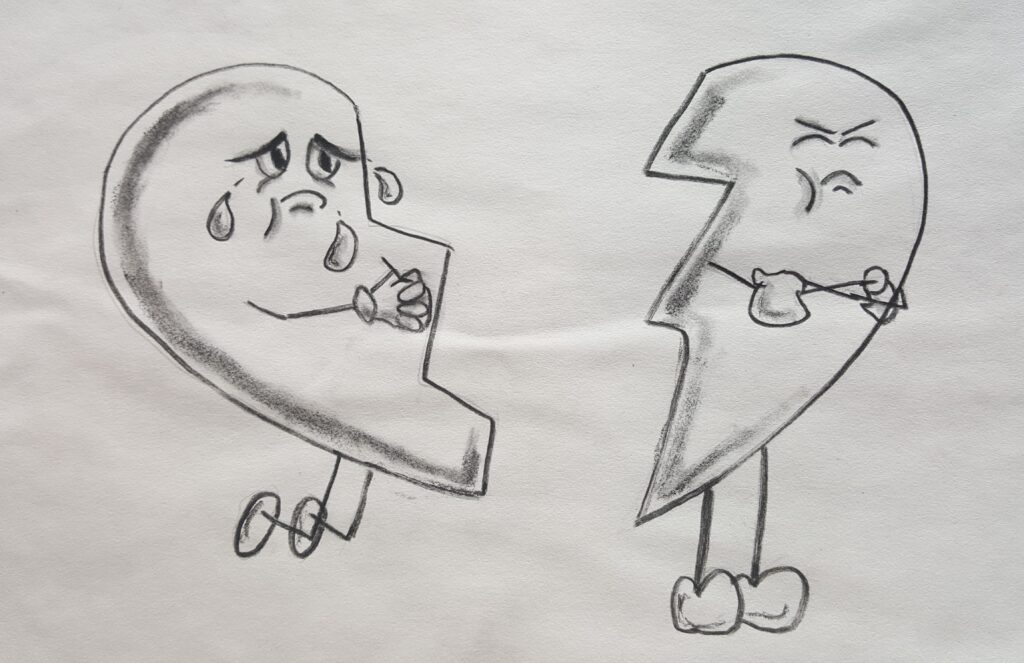 A picture is worth a thousand words. If you gazed long enough at Matt's charcoal-drawn picture, what stories from your life would unfold? Who did what to whom? What happened? How did you feel?
You hurt me. I know I hurt you. Will you look at me? Will you please forgive me? It's a little too late for that, isn't it? I'm so done with you. You disgust me! Don't come looking my way for sympathy. You created your own bed that you're lying in. Don't try to lie with me, you liar.
Is it fair to say that the one who lacked self-control and messed up is now at the mercy of the one who was trustworthy and faithful? Doesn't it seem like the cringing one now has all of the power and all of the control? The one who was hurt now exercises control over the relationship that keeps growing in distance. Why would I ever trust you again? A marriage and a house divided against itself cannot stand.
What happens when it's your child or teenager who messed up? They say, "I'm sorry. I won't ever do it again," but you refuse to forgive them and to show mercy. You refuse to trust them again. You begin to withhold your love and their privileges because you want them to learn their lesson and not do it again. In your anger, maybe you give them the silence treatment for a while. Maybe you send them to their room instead of bringing them closer to you where they could learn from you and find a better path. But when you're finally over it and when you're ready to try to reconnect, your child is shut down and refuses to talk with you. You showed them, and now you're paying the price as they start turning to all of the wrong places seeking attention and seeking the love that you withheld from them. You're divided against your own children.
What happens when you're the man or woman who caused the hurt that your family is experiencing? Your heart is so broken and crushed that you can't even look in the mirror at yourself. You can't believe what you did, and continue to do, that alienates your loved ones. You've begged God to forgive you, but there's no way you're ever going to forgive yourself. You begin to withdraw from God, yourself, and your loved ones. Your self-contempt leads you to consider things and to do things to soothe yourself that you thought you would never do. You're divided against yourself.
What happens when a church allows itself to be divided? What happens when the church gradually allows its culture to redefine its preferences and practices? Then when plandemics strike, people begin to strike back against brothers and sisters in the church. Instead of arguing about music preferences, now we're arguing about masks and social distancing practices. What happens to the church that loses its focus on Jesus Christ? The "set free" ones should be the least anxiety-stricken people in all of the world. Instead, we're held captive by the ways of the world. Who wants to "worship" at Anxious Church?
What happens when school stops being a center for learning and transformation? What happens when schools lose their educational distinctives? What happens when we cave to culture and do school online? What happens when we clear out what makes school personal, relational, and cutting-edge and replace it with masks, face shields, over-control, and distance? What happens when we are more intent upon measuring how far we stay away from each other instead of how much we're learning with and from one another? What happens when I can't see your face and I can't hear you when you speak to me? What happens when wearing a mandated mask makes me sick, and then I have to stay home so that I don't make you sick? What happens when no one wants to go back to school? You have a divided school.
What happens when a nation is at war with itself? When people groups are warring with themselves? When technocrats and democrats and republicans and people of all ethnic groups are colliding with one another? Is there any hope amidst all of our divisions?
Yes. If my people who are called by My Name will humble themselves and pray. If we'll seek His face and turn from our sin, God will heal and forgive our land. All who call upon the LORD will be saved. Only as we turn to God and turn towards one another seeking and offering the love, grace, and forgiveness that's desperately needed can we become reunited.
Instead of seeing how far we can get from one another, I want to encourage you to find creative ways to break bread with each another. Instead of blowing up social media by bashing people that you're at odds with, build a communication bridge and find some common ground. Instead of building walls of self-protection, look for ways to be good neighbors. Find out what's missing and what's needed, and prayerfully explore ways to step into the gap. Let's look for ways to lay down our lives for our friends and love our enemies as Christ taught us. Jesus gave His all and set an example for us all to follow. Everything we have, we've received from Him. The more you give away…the happier you'll be. Give what's needed most instead of stubbornly withholding it. Love. Grace. Forgiveness. Mercy. The benefit of the doubt.