What you feed grows, and what you starve dies. The truth of this statement might resonate with you, but what if entire regions of your life are out of control because you fed them indiscriminately? The obsessions and addictions of my former life wrecked me, and I needed a Personal Trainer to restore my life. How I thank God for sending Jesus to restore my broken parts and for making me whole. How I thank God for sending my son who helped rehab and restore my body from my sports injuries. How I thank God for the people He's brought into my life to help train me to do what I'm learning to do well. How I thank God for the daily disciplines we do together that He's using to personally train me to become a man who does His will.
My favorite artist, Matt Potosky, is a train artist. Our iron-sharpens-iron friendship makes us stronger. Today's blog will be enhanced by Matt's amazing charcoal-drawn trains. When I was younger, God and I were on different tracks.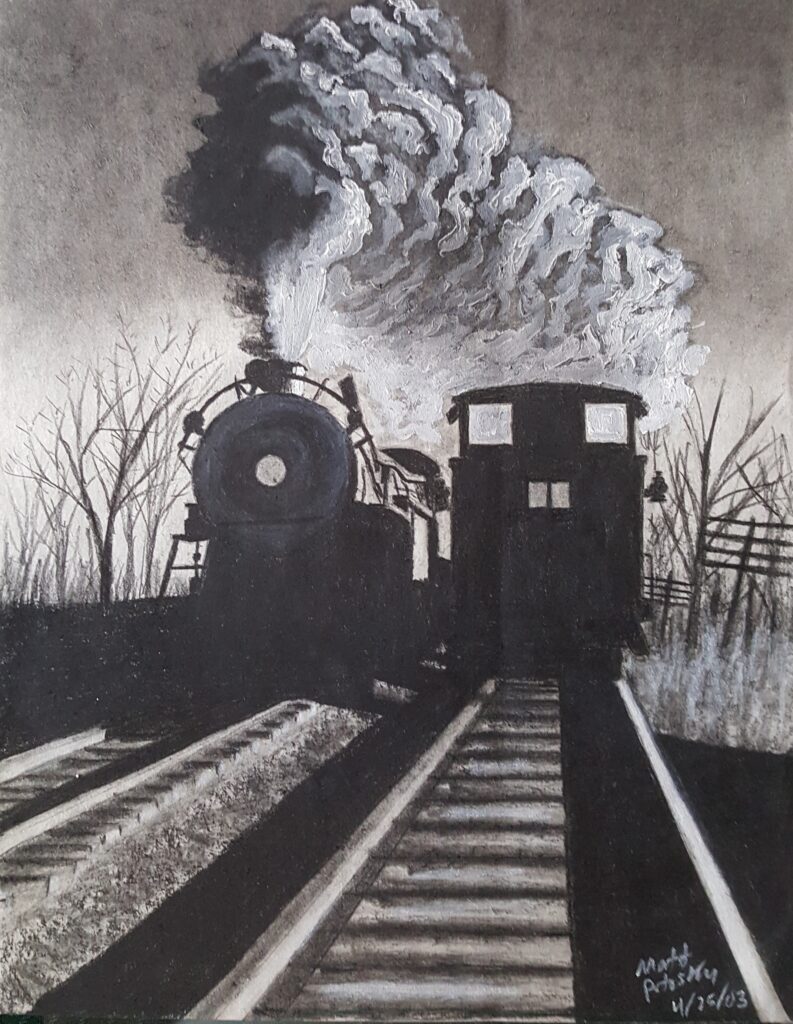 I fueled off of my passion for sports, people, performance, and pleasure. God, being a jealous God, never created us to get our life from something other than from Him. Instead of allowing my train to wreck, God brought a vibrant group of college-aged musicians and actors into the dead church that we were attending, and they introduced me to Jesus Christ. I confessed my sin, and I received salvation.
If you take a close look at your life, your emotions, your work, and your relationships, and if you discover that it's not working, maybe it's because you're not on God's track. Maybe you're still trying to control your own life. Instead of train-wrecking, God may have allowed your life to not work because He's designed you follow Him. Maybe you've had multiple train wrecks, and you wonder if there's any hope for you. I want to encourage you to surrender the controls of your life to the Engineer who will help you get your life on track.
After following Jesus for a couple of years, I realized that I didn't have the power to live the way that God wanted me to live. I was failing miserably. I started attending a church where the people were fully alive. When I recognized that I needed the work of the Holy Spirit to empower me, I received the gift of the Holy Spirit's indwelling, and my life radically changed. I felt God's power fueling my life. I discovered His peace and joy. And I began to open my mouth to sing His praises and to share His story of redemption.
Maybe you had a VBS or camp-like experience when you said "yes" to Jesus. You said the prayer, and you felt an emotional high, but you never really signed up to follow Jesus. Maybe you were taught that everything you need in life you received at your salvation, but you realize that it wasn't enough. Jesus actually told His disciples that they'd be better off when He went away because He promised to send the Counselor, the Holy Spirit, who would comfort them, empower them, and remind them of everything that Jesus taught them. Essentially, Jesus taught us that life only works when it's super-charged by His Spirit. The difference between "playing church" or watching Thomas the Train and actually following Jesus and fueling off of the power of God's Spirit is substantially different!
Over the past forty-five years of following Jesus on a wild adventure ride, I've noticed that people have written graffiti on many of my train cars. Some of the messages I have enjoyed. Some of them hurt.
Many of the train cars that I used to ride in, hoping to feel better and find a better ride, now have other people in them who are recovering from their off-on-the-wrong-tracks life. Not only has God healed and restored me, He's also positioned me to help and personally train others who want to discover personal freedom and truly follow Jesus from the heart.
Personal training takes many forms.  Some people need help learning how to feed off of God's Word.  Some need help surrendering to God's love.  Some people need help pursuing mental and emotional health.  Some people need help developing healthy boundaries.  Some people need help grieving losses and moving on with their lives.  Some people need help learning to be honest with God, with themselves, and with people.  Some people need help getting along with people.  Some people need help learning to forgive themselves and others.  Some people need help healing from trauma.  Some people need help learning to make decisions and recognizing how God speaks to them.  Some people need help with their marriage.  Some people need help improving their self-care.  Some people need help with their children.  Some people just need someone who listens and loves well as they're struggling to be a friend to themselves and to others. If your train got off on the wrong track, or if it feels like it's stuck sitting on a track that it should be on, I'd love to help.  During my journey, I've discovered and developed tools and processes that help people get unstuck, get on track, and move towards places that are more life-giving.  Left to ourselves, we get stuck, and we don't get where we want to go in life.  If you would like help starting conversations that can lead to changes that you're desiring to make in your life, please don't hesitate to contact me at glenn@spiritdriven.org.  I look forward to connecting with you.