Learning to Live by the Book
NTD 1 is a spiritual muscle-building discipleship course designed to grow self-feeding Christians. To preserve and ensure that Howard Hendricks's work of art never gets lost or collects dust on a bookshelf, NTD 1 applies Living by the Book Bible study tools to the Gospel of John. Instead of always looking for someone else to feed you God's Word, NTD 1 will position you to know, understand, and apply the Bible in your everyday contexts. Through this small group discipleship process, you will gain valuable experience leading, facilitating, reflecting, and praying together.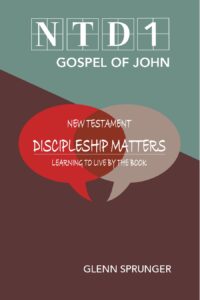 Discipleship Triathlon - Part 1
NTD 1 is the first of three triathlon discipleship courses to build your spiritual fitness and prepare you for the 90-Day Cross Training Adventure. NTD 1 will test your grit while converting your comfort-seeking fat into spiritual muscle. If you stay the course and develop spiritual discipline, you will become a lifelong student of God's Word, ready to apply and teach what you are learning.
A PDF of the lesson covering John 1:1-18 may be viewed at the link below as a sample:
See It In Action
Do you personally desire to participate in an NTD1 lesson? Contact us for more information.
Obtain NTD1
Would you like to have this tool in your hand in order to facilitate conversations with your team, family, and friends?