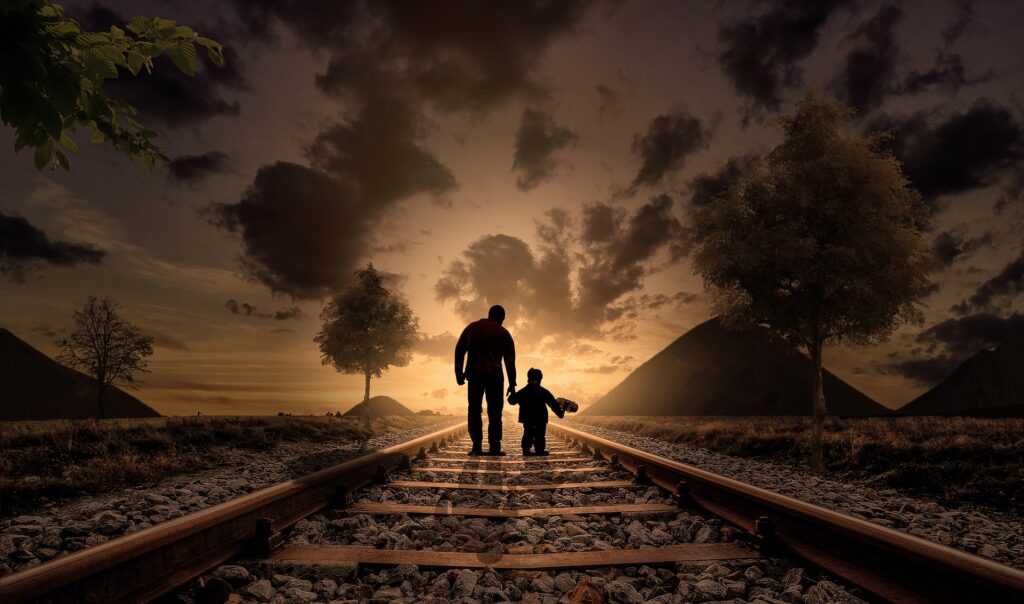 The cry for genuine spiritual fathers and mothers is everywhere. Notice me. Want me. Feed me. Change me. Help me. Invest in me. Look beyond my pain to see my heart and my deepest needs. Can you see something good and redeemable in me? Who am I? What am I supposed to do with my life? Can you help me find answers to my questions?
Thirty years ago, after grieving that I'd never get to be a dad, God did a miracle and enabled my wife and I to become parents. What an adventure that never ends! Our growing family includes four spirited adult sons, two incredible daughters that we grafted in through marriage, one hyper-loving dog and two boundary-less cats that come with our kids. Parenting never ends, but it definitely changes as our children age. The Holy Spirit prepares us for what's next and for what's needed. What worked and what was needed yesterday isn't what's right for today. Each one needs a different approach and needs both parents to be fully present when we're needed but not when or where we're not needed.
Keeping our spiritual tanks full and daily seeking God's wisdom and discernment is essential. Being on the same page with God and with our spouse and children is an incredible challenge, and we're not always on the same page. Our natural tendencies can make things better and worse. Listening to one another can lead to greater understanding and connectedness. Being willing to listen, talk, and do what's needed in the moment requires putting aside our preferences and doing what's best for the family.
Over the past years, God has opened my eyes to the realization that God has placed transparent parents all around us. They're the people who take us under their wings and who help us to learn and to become what God has made us for. Sometimes they're great-grandparents, grandparents, parents, aunts, uncles, and siblings who become our teachers. Sometimes they're neighbors, friends, mentors, teachers, coaches, or co-workers. Sometimes they're foster or adoptive parents or people we have one-time encounters with who change our lives forever. Sometimes we're parented by the authors that we read. Sometimes it's our own mistakes and failures and hurts that God uses to reshape and to develop us for His good.
Over the years of walking with God and with people, I've met amazing people who have stepped into a parenting gap or void and who have changed lives forever. Gary and Celeste Gerwig are some of my favorite transparent Spirit-Driven friends. They've been fostering and adopting children for more than thirty years. Each child has changed them, and each child has been changed by them. Every time that I'm in their home, I get better, and I learn from their wisdom. They aren't afraid to be honest as they speak the truth in love. They aren't afraid to ask the tough questions. They're not afraid of new challenges or parenting opportunities that cause them to sacrifice and to suffer. They're the real deal. Jesus with skin on. They live messy lives with a clear purpose. Be Jesus, and give a home or a hand to those in need.
Another eye-opener has been the recognition that each of us are given God-ordained opportunities each day to invest in God's children. God's kids range the whole life span. When we ask God for divine opportunities to love and to share our faith in Jesus, we never know whom God will bring into our lives. When life is our school of teaching and learning, every person–young and old–becomes our teachers and our students. When we engage in intergenerational discipleship, sometimes I'm learning from a little kid, a teenager, a young adult, or an older adult. At the same time, I'm getting to invest in the development of those around me. If we stay open and stay young, we have so much to learn and so much to offer. All we have to offer is everything that God has given us, and Jesus has given us everything that we need to do His work in His way.
The key to "transparentcy" is being open to the ways that God teaches us in the process of parenting. My wife and kids tell me what I need to hear. When I can't hear it from one, I get to hear the same message from six different angles. Regardless of what I do as a parent, I can get immediate and delayed feedback if I'm transparent and open to learning from those whom I'm teaching. When I'm pastoring, counseling, friending, or mentoring, I get daily feedback from those around me. I don't always like the form or the feedback, but I learn best from people who shoot straight with me. We learn more when we create safe environments for mutual learning.
If you notice that one of your family members is shut down or acting out, take them for a walk, a bike ride, or a drive. Get on their turf and do what they like or need. Listen with the desire to know, to understand, to love, and to stop doing what's not working. The more that we live in their preferences, the fewer obstacles we create to connect and to build brides of love and understanding. Don't just leave people alone when they're not okay. Make time. Find common ground. Practice holy listening. Pray with them and for them. In my own family, I need to talk less, listen more, criticize less, and discover new ways of being a supportive husband and father.
While God brings many people into the lives of our children to help them to grow, don't get consumed with your own stuff or work to the neglect of your family members. You've been given a high calling to shepherd the development of God's children in and out of your home. Yield to the God-given daily opportunities to feed God's sheep. With God's help, you've got what it takes.